Cabin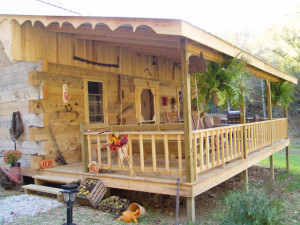 Pappy's Log Cabin sits in the middle of a secluded 77 acres of West Virginia Mountain Forest. Furnished with many antiques, books and hymnals, the cabin makes a perfect setting for family singing and story telling. Some of the cabin's amenities include two stone fireplaces that heats the cabin with natural gas logs. All you have to do is push a button to get the fire started, the cabin heat is thermostat controlled. The cabin is outfitted with cathedral wood ceiling and exposed beams with sleeping quarters in the balcony and a large bedroom with a large queen sized bed and private 1/2 bath. Under the balcony you will find the bathroom and kitchen areas. The bathroom is equipped with a shower, sink, linen closet and commode. The kitchen contains an island, natural gas cooking stove, sink and eat-in bar. The front porch of the cabin is outfitted with a antique wrought-iron dinette set, gas grill with side burner, rocking chair and a six foot swing big enough to lay down on. The entire cabin is powered by 12V solar power.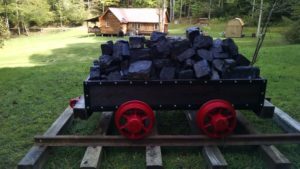 Our cabin sleeps 10 people! We have a queen size bed that sleeps 2, two sets of bunk beds that sleeps 4, full bed in a balcony that sleeps 2 and a hide-a-bed couch that sleeps 2. Of course, there's room for air mattresses and tents outside, if you choose to bring more people (additional fee may be required for additional guests).
NEW! We now have a diesel powered electrical generator to the Cabin. This supplies electricity to the Cabin, if you so choose, and lighting around the pond. We've also added a microwave oven and we're in the process of adding a flat screen t.v. and DVD player to the cabin.
Our Pond is full of fish, no fishing license is required, however, we do ask that you "catch and release" so that other visitors may enjoy the ample sized catfish and bass when they're staying with us. We provide a Paddleboat and Rowboat, a ZipLine and lots of space for swimming! Don't leave your fishing pole unattended, our catfish are thieves!

Located within minutes of WaterWays Fun Park!
Fun, convenience and taking it easy. Three key elements for people of all ages to enjoy. When you stay here, only your group will have access to the entire 77 Acres and all of the fun things to do. This is a unique place to spend a relaxing time away.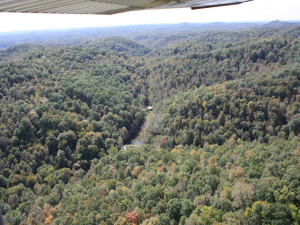 The master bedroom has more square footage than the entire floor plans of those "mini" cabins you see elsewhere.
Located just inside Lincoln County West Virginia off of State Route 3, you can park your trailer full of ATVs at the cabin and when you're ready, just hook up your trailer and head on out to the Hatfield-McCoy Trails for an exciting ride on your quad in the mountains!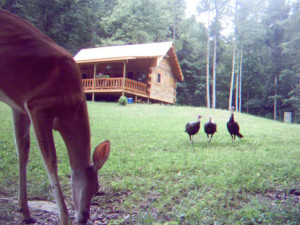 The outdoor fire pit is a great place to roast marsh-mellows and hotdogs. The great thing about it is that it's very easy to use. As with our stone fireplace in the cabin, the outdoor fire pit is started by using a natural gas burner to start the wood burning. It is nice just to sit around and enjoy the quiet solitude of the Appalachian Mountains under a blanket of bright stars because there's no city-lights!
Just down the road a piece, you'll find a country store with a little bit of everything. If you can't find what you want there, we're about 30 minutes or so to the South Ridge Mall, Dudley Farms Mall and Trace Fork Mall areas of Charleston West Virginia where you can purchase just about everything and anything you might need. There's also a variety of restaurants located there as well.
Some of our other amenities include a log-cabin playhouse for the little ones to play in, a see-saw and a swing that hangs down 25 feet from a walnut tree that is fun for all ages. Our well was "hand dug" in the 1800's and is still in use today through a hand-operated pump that the kids enjoy playing with. With all this, you don't have to leave the 77 acres to have lots of family fun.
And don't forget about our Shooting Range, which is one of our most popular features. Our shooting range is setup to allow you to shoot from a few feet up to 100 yards and provides you ample opportunity for some "gun powder therapy" while you're staying at the Cabin.
Gallery of Cabin Pictures