Shooting Range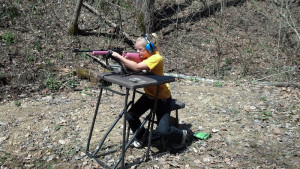 125 Yard Shooting Range.
Archery Range.
Portable Shooting Bench
Rules:
1) Underage persons must be under the DIRECT supervision of a parent or guardian. No exceptions!
2) If you have consumed any alcoholic beverages or have been using any other substances within the last 8 hours, you may not shoot on the range.
3) If you intend to do bodily harm to yourself or others you are not permitted on the range.
4) Shooting glasses and proper hearing protection are REQUIRED and not provided by Pappy's Cabin.
5) No person may be permitted to be "down range" during live fire.
6) When not engaged in active fire, all firearms must be unloaded, the bolt in the "clear" position, safety "on", chambers cleared and the firearm aimed in a safe direction.
Specific rules apply. See owner for details.